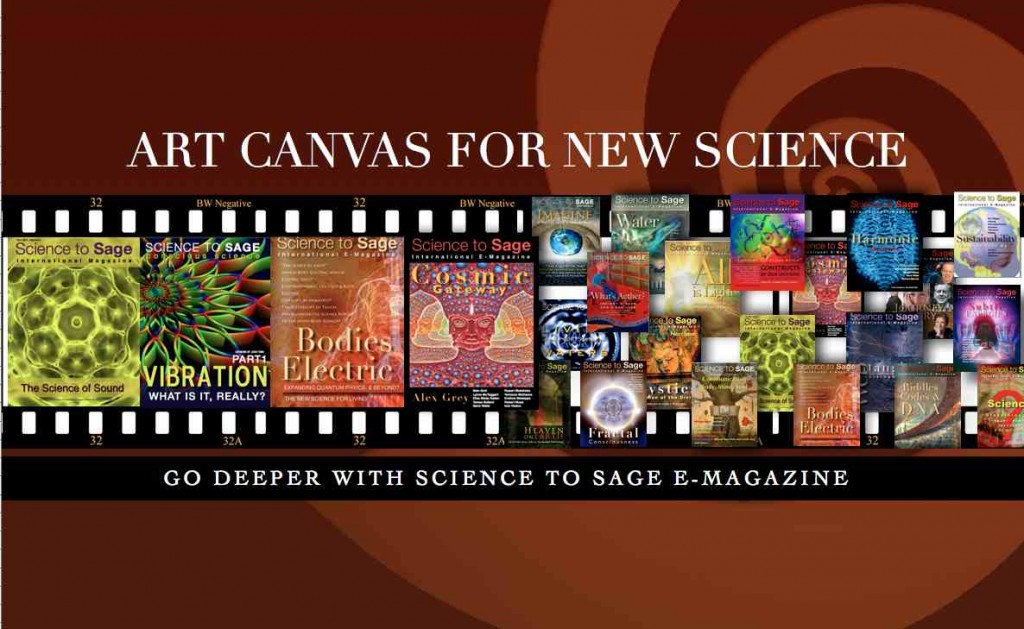 There are many pioneering into the fields of medicine, science and technology. There is much that is new.  From the book Insideout, A Visual Journey into Our Universe to Science to Sage E-Magazine, I invite you to explore deeper with contributing authors and artisans. Science to Sage also covers events and creates special editions.
To advance civilization, in this new ages of high-speed and sound bites, information needs to be visuals and passionate. As we progress to evolve as a collective capturing the imagination and relating new ideas need to be presented visually to make the complex simple.
For the past 4 years Science to Sage magazine as pushed against conventional thinking, and explored conscious science. Each themed issue, 39 to-date,  feature some our our favourites, as well as innovative thinkers. The art is smart and conscious.  The most common response to the magazines is WOW!
General Topics
Patterns in Nature
Healing Consciousness
Light & Electric Bodies Water Science
Cosmic Connections
Stories & Communications
Praise
The magazine is an EXTREME art canvas, conveying the new sciences in the true universal language – pictures; making complex ideas simple to grasp. The most common response to the magazine is WOW!
Wow, it looks great. You do a really great job on this magazine Karen, I can't wait to share this on my fan page. ~ Cheryl Lee Harnish
Your magazines are treasures. They are magnificent. I am blown away. Wow! ~ James L Oschman, Ph.D.
A landmark magazine of vibrant proportion that will stir the vital essence of each one of us with contributions from Dear Konstantin, Pollack and many more visionaries of our time. ~ Krishna Maddapa
One word: W O W ! – Arnaud Saint-Paul
It looks great! You have rocked it once again. You are an amazing artist and such an advanced consciousness. I don't know of a more beautiful and important magazine and we deeply appreciate our opportunity to be a part of it. ~ Foster Gamble
Karen you do good work! I'm proud and grateful to work with you. ~ Dale Pond – Pond Science Institute
…I think you took a really hard subject and made it understandable to a general audience. Good job! ~ Kim Gifford, Thunderbolts Project
Karen, wow, what a nice visual collection. Let me know when it goes live on the Web, and I can tell people about it. ~ Clifford Pickover
Enter Science to Sage Magazine's website
Science to Sage also produces Special Editions